look at this video that lindsay posted….OMG.
seriously. i am jealous. not really. but that is amazing.
---
also i think i fell in love with this new wednesday theme…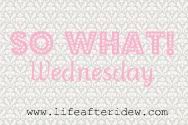 so to start:
so what if i ate a york peppermint patty at breakfast. and lunch. and snack time.
so what if i told my boss to chill the f out. i still have a job.
so what if i ordered chinese food for dinner.
so what if i wake up earlier than the sun.
so what if i love getting snail mail. don't you?
i'm gonna think of some good ones for next week {that is if i can get on the computer on a wednesday ever again….}